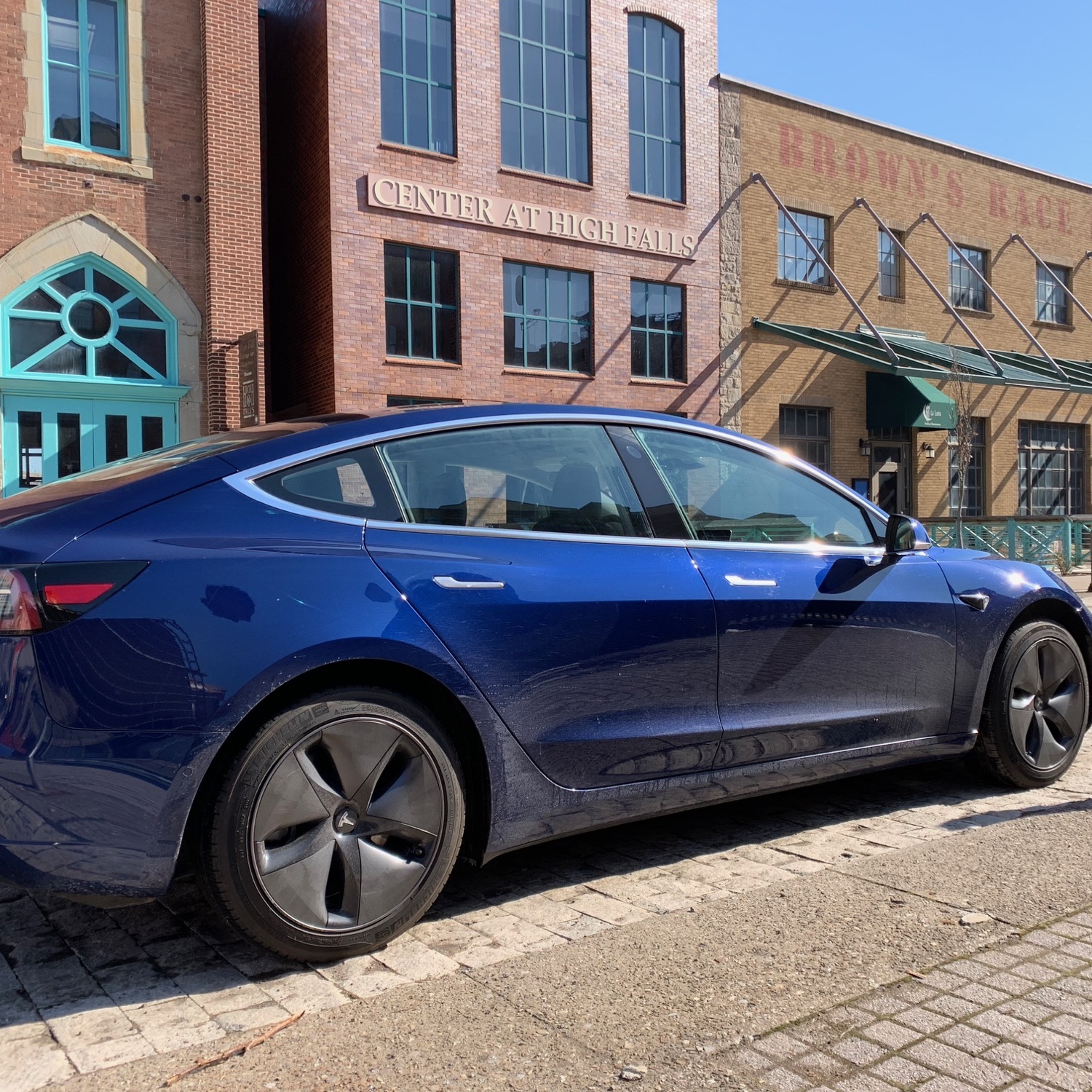 If Elon Musk reads this review, he should be happy. He has always stated that the goal for Tesla was to make the car industry go all electric. Jumping on the bandwagon, I purchased a Tesla Model 3.
Fanbois beware, this review touches it all. My excitement when I first saw my blue Tesla. The disappointment when I saw its many flaws. The range anxiety I had driving it home. The frustrations of attempting to get flaws fixed. However, I encourage everyone to read on.
Why?
I'm a car guy. I've owned vehicles by Mercedes-Benz, BMW, and Mini Cooper. I've driven many times more that, in fact some dealers have come to expect me to ask to test drive cars. Sometimes they'll just toss keys at me when I come for a visit. I'm also a huge believer in leaving the world a better place than you found it. When Donald J. Trump was elected as President I was devastated. I was determined to do my part to continue to make America a better place. So I looked up solar panels in January of 2017. Only one place would give me a quote due to limited roof space and it would only cover 50% of my electric usage. So I shelved the idea. I kept watching Tesla even though I hadn't done a preorder for the Model 3. I was then invited in October of 2018 to purchase Tesla thru their mailing list. I jumped on it.
Pickup
I was scheduled to pick up the car in the middle of December at the Mt. Kisco Tesla Store. When I arrived I was excited to see my first Tesla Model 3 in person, a red one. I wondered were my Tesla was. I was a little early, but they started processing my paperwork which I all signed. Then I learned I would be shuttled to a different location where I would actually pick up my car. I then waited at this location for over an hour with no chairs or amenities. Finally I'm taken to my car. I immediately notice the paint flaws on the hood. I address them with the delivery personnel. They promise that Tesla will fix any flaws and for me to just to bring it in for service. They also state they will document the paint flaws. I take them for their word and start the 6 hour drive home to Rochester, NY. I do have to make a stop in Binghamton for a Supercharge. Talk about range anxiety, I get there less than 10% battery remaining. I started to wonder. Had I made a huge mistake?
Range
Now I think the biggest concern with moving from a petrol vehicle to an electric is range. This is part of what I love about cars is that you can easily fill with gasoline in a couple of minutes and have the freedom to drive anywhere. You don't have to rely on anyone else but yourself and your hopefully dependable vehicle.
So lets take a look at a scenario. I drove 178 miles, mostly on expressways with 3 stops. When I was finished, I had 6% battery remaining. Based on initial range projections of 318 miles and the fact that my car was charged up to 90% when I left, I had lost about 90 miles of range. Thats almost 1/3 less range. Sure, you are going to state that this was below average due to the colder weather but still brings me to the point that I never achieved the stated range in my Tesla. I have a friend that lives in Cortland, NY exactly 123 miles away. So roundtrip is 246 miles. Should be easily done. Nope, not a single time. I have always had to stop at Waterloo for quick Supercharge. In addition to cars, I also love technology. So I'm used to disappointment. Most laptops were always inflated in how long their batteries last, things are definitely better now mostly due to the efforts by Apple.
Customer Service
Once I got used to my new electric car and the centrally mounted operating system on the 17" touch screen, I switched gears to getting the paint issues repaired. I set up an appointment on December 26th 2018 with Tesla Service. This had to be a remote appointment and they were schedule to come to my house in the middle of January. It was an appointment that was missed and I was never contacted until I contacted Tesla after my service window was over.
So I escalated and was given permission to take my Model 3 to a local paint shop for them to attempt to buff the scratches out. I also noticed the Tesla emblem on the front hood was crooked. I'm still to this day ignoring the fit and finish of the interior. The paint shop did replace the emblem and try to buff out the scratches but ultimately suggested repainting the hood. This was escalated to Tesla and I received nothing in response.
So I tried everything from calling my salesperson and emailing the service team. I then contacted Wells Fargo, the company I had my loan with, and they further escalated. I also contacted American Express with whom I had paid the down payment and did a chargeback. I did receive some communication from Tesla but never an authorization sent to the paint shop even there was promises they would.
Then a couple of months later my power steering went. Luckily a local service center finally opened up. I scheduled an appointment and was seen after having no power steering for over a month, which was quite unsafe. I also noticed a common problem with condensation in my rear brake lights. The service center was quite rude at first and said my appointment was solely for the power steering. I quickly informed the attendant that I was okay with some teething issues from a new manufacturer but that their customer service was appalling. He promised to get everything straightened. The power steering and brake light were fixed with a week. However it was still over a month before they finally let me know that they had ordered a new hood and that same paint shop had just finished painting it. I got the new hood installed. However I still had a coupe of issues about the interior and a wheel that got scuffed due the power steering issue. It has been radio silence from Tesla. In the meantime the other brake light has also developed condensation.
Autopilot
Of course another selling point that Tesla has evolved to be is the promise of self driving. I'll be honest and say that beyond my Enhanced Autopilot trial, I have not used Autopilot or Full Self-Driving. When I did use it in my trial, I did find it adequate. However my concern continues to be price.
For comparison, Mercedes has on its A Class Sedan an optional Driver Assistance Package for $2,250 which has adaptive cruise, steering assist, lane change, route based speed adaption. For an additional $1,090 I can add self parking. For comparison to add the same features on my Model 3, I need to spend $3,000 for Autopilot (which is now standard) and $7,000 for Full Self Driving. What more do I get for almost $7,000 more? Navigate on Autopilot which will attempt to handle interstate interchanges and now in beta it will recognize traffic intersections and allow you to tap to proceed thru stop lights and signs. Its oddly coincidental that Apple Maps in CarPlay recently added traffic lights and signs.
Now you might suggest I just purchase the Auto Pilot and suck it up but I won't get self parking or automatic lane changes. Things that are standard in so much of the competition not just Mercedes. In fact Mobileye provides the equipment to Mercedes and a-lot of manufactures that is a combo of radar and cameras. Mobileye recently demonstrated self driving in Jerusalem, Israel. If you have ever visited Jerusalem, you'll know thats an accomplishment with the challenging roads it would have been required to travel. Even Tesla used Mobileye technology until they separated because Tesla wanted to push the limit and Mobileye is more conservative and didn't give Tesla the ability to do beta or outside the proven.
Coming soon to Full Self-Driving is Autosteer on city streets. That's the newest language coming from Tesla. So for about $7,000 more than the competition I'll get Smart Summon, Navigate on Autopilot (interstate interchanges) and soon Autosteer on city streets. I don't know if thats worth $7,000 to me. Especially when you will be required to monitor most of these functions at all time. The general consensus is its not worth it no matter Tesla's hard sell of increased functionality in the future or threats of further price increases when the competition is only decreasing the prices of autonomous features. I also hesitate about financing a future where Tesla owns the car and I only rent in for a drive. As a car guy, car ownership is important to me.
Competition
That takes us to the competition, which frankly isn't much. Mercedes and BMW did have plans to bring electric SUVs to the US but delayed or cancelled those plans. Probably the biggest stumbling block to adoption is price and range. You could get a Mini Cooper Electric for about $20,000 after tax credits if you are okay with only a 110 miles EPA range. Or you can pay around $80,000 for a Audi E-Tron which is more refined but only gets 204 EPA range. The Tesla Model 3 Long Range can be had for $48,990 with a 322 EPA range.
ne thing of note of course is that EPA range like any range test is not reflective of your own driving. The Porsche Taycan has a stated EPA range of 192 miles but many testers were able to get well in excess. At a price of $103,800 its also one of the most expensive electric cars. The Model 3 lacks a heat pump which is more efficient at heating which could effect its range. Most of the competition has heat pumps, I don't know if that is a reason as to why the Model 3 in real life seems to get less range while the Mini Cooper and Porsche get more range compared to their EPA results. The new Model Y SUV from Tesla does have a heat pump.
here is also competition from Jaguar, Chevrolet, Nissan, and Kia. If we are honest, a-lot of that competition is due to the pioneering work from Tesla. Of course Tesla also benefited from investments from Daimler, the parent company of Mercedes. As a car guy that does also continue to own a Mercedes roadster, my wish would be an electric car that has better fit and finish then Tesla are currently able to offer. I also wish for more integrations such as Apple CarPlay. As such I am keeping my eye on the Volvo XC40 Recharge with expected range of more than 200 miles.
Conclusion
My concern going into an electric car was giving up my freedoms to drive anywhere. So like many buyers, even though I mostly drive small distances, I wanted range. I also wanted an all wheel drive car to handle winter. Even though my first drive did give me range anxiety, with careful planning I haven't had that issue since. Tesla also continually adds Superchargers which while not as fast a refueling do allow you to charge quickly and be on your way. So in conclusion, the one thing that this has taught me is that I can live with an electric car. For that Elon Musk should be proud. However…
Elon Musk tweeted on April 29th 2020, "Free America Now" in response to the COVID-19 lockdowns. He has demonstrated less concern for the safety of his workers than his traditional competitors. Elon Musk is Tesla's biggest liability. Either he is tweeting insults that land him a libel lawsuit or he is getting reprimanded by the US Securities and Exchange Commission for potentially manipulation stock prices. Sure some might argue his assets outweigh his liabilities but I think he would do well to refrain from tweeting. I also think his negative qualities remind me of Trump which is ironic since that is one of the reasons why I wanted to switch to electric.
I think Tesla would do well to focus on Customer Service. I think Elon Musk's my way or the highway attitude has permeated the organization which has prevented them from providing the service that one should expect for vehicles in this price point. Overall I think the Model 3 is a great product despite the teething issues. However I hesitate to recommend due to the lack of customer service. I do however recommend that you take a serious look at electric vehicles including the Model 3. Electric vehicles are definitely the way to go. In fact as I wanted to continue to be greener, I reduced my electric usage, and finally got solar panels installed starting in December of 2019.