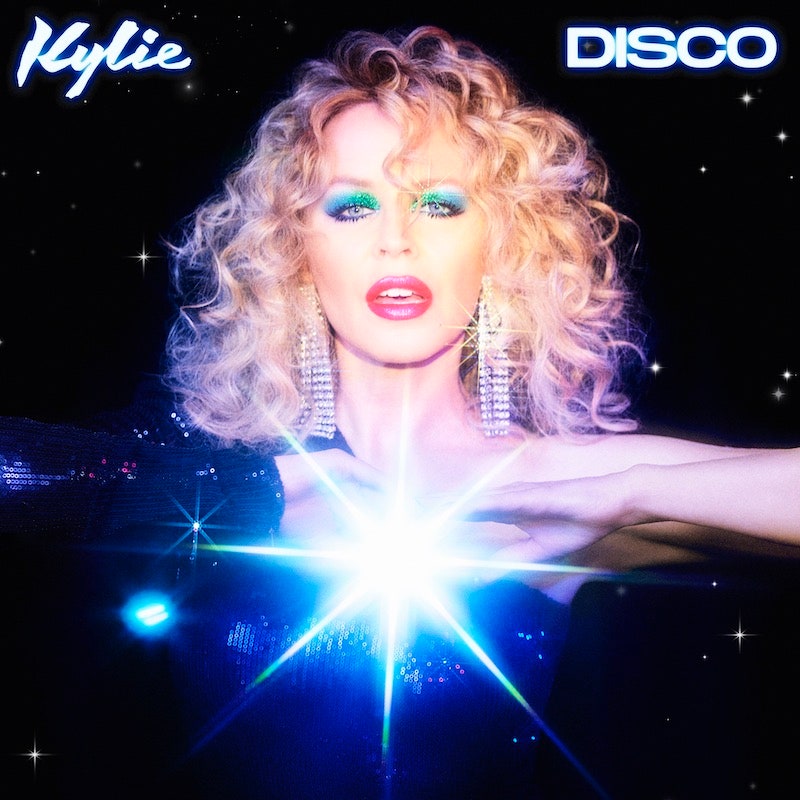 Sometimes it's hard to express exactly why I am a Kylie Minogue fan.  Take a journey with me as I review her 15th studio album entitled DISCO.
I think Vogue says it best, "Describing Minogue's enduring appeal to newcomers can feel like explaining why so many children worship Santa Claus."  It is of course that consistency but also surprise that comes with every new album and era.  The consistency is the extreme caliber of her work, both on her recorded albums and live performances.  Take a look at the reviews for DISCO, which are favourable.   The Guardian says, "It's the kind of magic trick only Kylie could pull off."  The surprise is the evolution and reinvention of her image and sound, all while staying true to her pop-dance origins.  Take 2018's Golden which was country inspired both in sound and imagery, but who's tour signaled that the next visit would be Studio 54.
The consistency also shows in that there isn't a bad track on the album.  I'll confess, sometimes I'll get songs stuck in my head.  Yes, Can't Get You Out of My Head.  However, i've never had an album stuck in my head.  The songs are pure disco, paying tribute to Donna Summers, Gloria Gaynor, and ABBA.  And they are catchy.  The lyrics, of which Kylie is credited, are magical.  "Do you believe in Magic?"
Magic – The second single speaks of falling in love as being magic.  "I don't know what else to call it."
Miss a Thing – "Cause I don't wanna fight what feels right.  Baby, I, baby, I just don't wanna miss a thing."
Real Groove –  This song will have you wishing for the dance floor.  "We got something better, got that real groove baby"  
Monday Blues – "Keep counting down the days to you, It's getting me through those Monday blues."  You certainly can't have the blues after this track.
Supernova – Clearly already a fan favourite.  The Infinite Disco performance intermixed with Light Years was out of this world.
Say Something – The lead single seemed to fit the pandemic and the longing for connections.  "We're a million miles apart, in a thousand ways."
Last Chance – This song is definitely ABBA influenced.  
I Love It – So dreamy, take I Should Be So Lucky meets Love At First Sight.  "I was like a lonely star at night, Waiting for someone to share the light."
Where Does the DJ Go? – When you don't want the disco to stop.  After all, "I didn't get all dressed up for nothin'."
Dance Floor Darling – If the last song was pure disco, this one is a modern dance floor beat that will keep you dancing.
Unstoppable – "For everyone, When we get together, Unstoppable." A power anthem. 
Celebrate You – The song just screams positivity.  "Mary, you ain't ordinary."  "Everything I Like about myself is better with you."
Deluxe Edition Tracks: 
Till You Love Somebody – "All the colours of the rainbow."  Is this a future gay anthem of positivity and letting your heart lead the way?
Fine Wine – This edgy track makes me think of Kylie's 2008 Speakerphone.  Strike A Pose indeed.
Hey Lonely – "Hey, lonely, what you doin' for the rest of your life?"
Spotlight – The perfect song to end an amazing album.  "Cause tonight, I'm gonna change your life."
Just an amazing collection of songs and exactly what we need now in these dark days.  Don't take my word for it, DISCO is lighting up the charts and has even earned Kylie a chart record as the album hit number one in the UK.
DISCO is out everywhere now.